Here Comes Spring?...Sort Of!
Yes, Spring is technically a few weeks away. But for the next three days Georgia will be having 80 & 81 degree temperatures in addition to the trees already to display buds! Now a few woods from Debbie…
Dear friends, family, and customers
This is Debbie. I know you are used to hearing from Dr. Ben, but I need a minute with you. We have been telling you for some time now that we are selling our businesses because we can't keep up with them anymore. We have had many interested parties, but so far nobody has had the interest, money, time, and space to take the plunge and become a business owner.

As much as we would like to keep running Dr Ben's and Scale Model Masterpieces, it is getting to be harder and harder for us. In other words, we are getting old and tired, and we need to retire. To make matters worse, Dr. Ben's macular degeneration and astigmatism are making it increasingly difficult for him to do the things he needs to do to keep the business running. Some of you have noticed that he makes mistakes in our newsletters. I'm sure you don't realize that his eyes play tricks on him. He also has trouble training our high school interns and the one that we have now will be graduating and moving on in June. At times, it is even difficult for him to communicate with our wonderful customers.
We would really like to sell both businesses together, both because it will be easier on our wonderful customers if they could continue to purchase everything in one place and because whoever buys them together will get lots of "extras" (shelving, etc.). So we are asking all of you to think of anyone that you think would possibly like to own an established business that will bring in money right away and that also has room to grow. We are offering a finder fee to anyone that puts us in touch with someone who purchases either of our businesses, and yes, we will pay double if they buy both.
So please help us find one or two buyers. You will be helping us and also yourself. Please be save and hopefully one day we''l see you in the Hobby Room, Debbie and Richard Bendever
HO Scale - Handcar & Pushcar Kit (1-Set/Kit)
Tichy Train Miniatures
Details are composed of UNFINISHED /UNASSEMBLED plastic castings/parts which require Assembly & Finish. Assembly using most plastic cements and painting may be completed by hand or an air brush. Want to know how to weather your finished model? Scroll down to find out how! The above image and thumbnail at right best describes this item assembled (required) & its design.Handcar may be built with or without seats. Parts are injection molded Styrene and assembly & finish is required. CLICK HERE for More! You will want to grab a tube of Doctor Ben's Hypo Cement to assemble this delicate kit, too!
Weathering Stain Set #4 & Booklet #2 & #5504 Junk Pile


Doctor Ben's Scale Consortium
$54.89 Retail Price:$59.12 You Save:$4.23 (7%) 8-Color Ready-To-Use Weathering Stain Set #4 "Railroad Stain Set" for Wood, Plastic, Hydrocal, Metal & Much More... Are you tired of the costly, smelly petroleum based weathering and painting products that seemingly evaporated overnight? Do you like paying $5.00 for a half ounce of these very same products? Good... Part Number: DBZ1076
Rustic Scale Lumber-Natural Finish - Multi Scale
Listing is for One (1) Package Rustic Lumber-Natural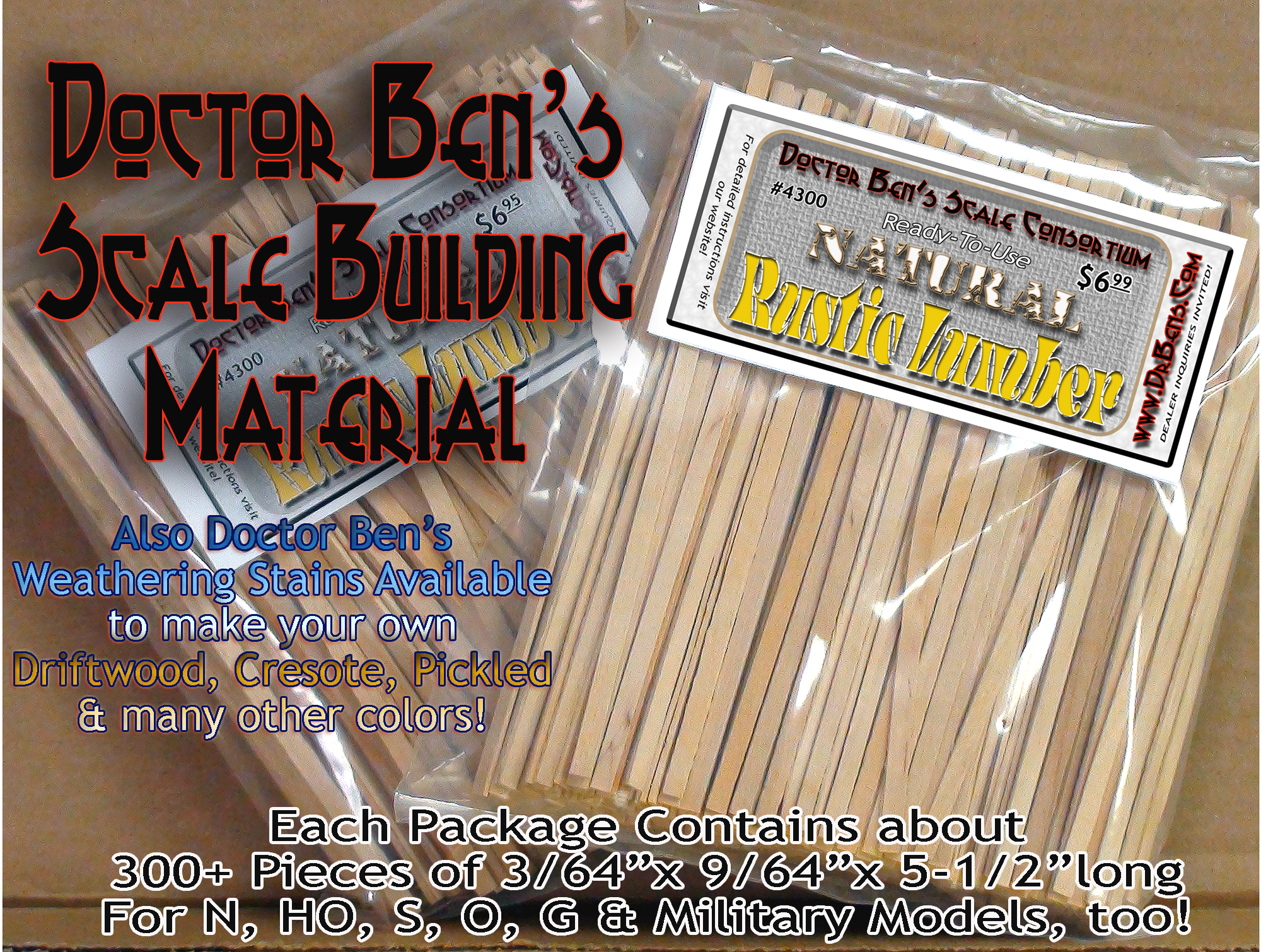 Original Contest Proven Doctor Ben's Product!
Doctor Ben's Rustic Lumber Instructions: We recommend that you DO NOT pay extra for the other three Rustic Lumber Products. Save yourself some money by purchasing the Doctor Ben's Weathering Stain of your choice (Oak, Pine, Driftwood, Durty Black, Antique White, Barn Red and 12 other Stains) and thinning them down you can create your own original Rustic Lumber! Each Package Contains 300+ Pieces of 3/64''x 9/64''x 5-1/2'' for N, HO, S, O, G & Military Models, too! More Info Here!
11-Color Railroad Weathering Pigment Sampler Set & Booklet
Doctor Ben's Scale Consortium-Multi Scale
Products Developed Directly from the Creations of NMRA National Award Winning Dioramas by Richard E. (Ben) Bendever... 11-Color Railroad Pack Industrial Weathering Pigment Set? #1315... Sampler Set for Amazing Results!... Included with this Industrial Pigment Set set is our *original* Doctor Ben's "How To #3: Weathering & Painting with...
Part Number: DBZ1315
Dumpsters w/Open & Closed Lids (4pcs-2ea)
California Freight & Details Co N/Nn3/1:160-Scale
Description for this item:... ...CALIFORNIA FREIGHT & DETAILS N/Nn3/1:160-Scale #... Detail Parts are composed of UNFINISHED/UNASSEMBLED Natural Resin or Color-Cast Resin parts-Assembly & Finish Required. Assembly using Doctor Ben's Hypo-Cement for tiny...
Part Number: CAL1153
Grimy Dusty Buff Weathering Solution 4oz
Doctor Ben's Scale Consortium
Doctor Ben's Grimy Dusty Buff... Ready-To-Use Weathering Solution... #1158-4oz Jar‹¨«Contest Proven Results!... About This Product... *NEW*Grimy Dusty Buff Weathering Solution creates that light, dusty buff (tan) from road travel and wind that is so difficult to achieve with opaque products. Additionally, this Weathering Solution reveals a 3... Part Number: DBZ1158
Small Town Stone Jail Kit with Details-Free Postage!

(Limited Time)

Footprint: 4-1/2" square
Thomas A. Yorke Enterprises/Scale Model Masterpieces O Scales
'Lots of small towns that can't afford the big, fancy jail with heating, electric and such. Heck, if it weren't for 'ol lady widow Nichols to bring a couple of meals a day to rowdy residents who reside for more than a night, folks just might forget about them. Those walls are two feet thick and the floor and roof are solid concrete-- ain't nobody with just a spoon gonna dig their way out of there. Maybe next time they'll not take shots at the picture of the Mayor's wife hanging over the bar!

This kit represents structures that were common from the old West and the Civil War to more contemporary times in small towns. The structure is very sturdily built of cut stone blocks atop a masonry type floor panel. The floor can be packed clay or concrete depending upon the era modeled. Every small town needs a jail. More about this excellent kit HERE!
HO G-Street Warehouse Kit - Back in Stock
by Thomas A. Yorke Enterprises/Scale Model Masterpieces New Release HO/HOn3/HOn30/1;87

Footprint: HO-Scale 96' x 40' (5-1/4" x 9-1/8" + Dock Space)
G-STREET WAREHOUSE Kit by Thomas A. Yorke Enterprises/Scale Model Masterpieces HO/HOn3/HOn2/HOn30... About This Item... New-Old Stock (NOS) HO/HOn3/HOn2/HOn30... Footprint:HO-Scale 96' x 40' This impressive structure was based on one still standing in San Bernardino, California. The original cast concrete... CLOCK IMAGE!for More Info
Also, as part of our upcoming "Scratch Buildin' Series", we NOW offer all four walls, roof, loading docks and doors of this kit for individual purchase. Interested? Let us know!
"S
hort Line Stone Depot" Kit


Thomas A. Yorke Enterprises/Scale Model Masterpieces HO & O Scales
Waitin' on the 5:05 A shrill whistle breaks the stillness of the evening air. Soon the little engine with a single combine in tow will round the curve and pull up to the tiny depot. The 5:05 is right on time. Originally, Thomas A. Yorke called this station the Rocopilla Depot. The original Rocopilla Depot kit had no specific prototype, but the basic construction techniques used for this model were inspired by a little station south of the border... CLICK HERE & Free Shipping Limited Time, too!
Doctor Ben's Product Review!


HO SCALE CORRUGATED ROOFING / SIDING MATERIAL

by Brett Wiley
I LOVE making metal roofs and adding metal siding to my structures. The metal roof, when applied right, painted well and weathered to look like an old rusty metal roof just looks awesome. Now I understand that you don't have to paint metal roofing/siding to look rusted and worn, but that's just our style and we like the tired and old feeling for our buildings. CLICK HERE
Black Soot Weathering Pigment-2oz
Doctor Ben's Scale Consortium
Doctor Ben's Industrial Weathering Pigment/Paint '2oz Re-sealable Jar by Volume'... Color is: 'Shown in Image' Weathering Pigment Plastic/Metal/Resin 2oz-*NEW*... This is a much bigger container of weathering product than the little thimble that other folks offer-PROMISE!... They're Not a Powder and They're Not a... Part Number: DBZ1340
Please share your DEBenLLC purchase experience on our website! This is a really great feature on our website so here is a chance for your to be one of many satisfied customers to share your DEBenLLC
product experiences. . And be sure to Invite your Friends to Like our Facebook Page, too!

DEBenLLC & Doctor Ben's Facebook Pages Social Networks!

Click here for the Doctor Ben's Facebook Page - Like Us Here!

Click here for the DEBENLLC Facebook Fan Page - Like Us Here!

Thank you for your business! Please tell your friends; it's our only advertising.
Sincerely, Debbie & Richard Bendever
TOP