Have You Had Enough Winter?
We've received bunch of new Newsletter Subscribers over the Holidays who may not know that the MagicJack business phone line (VOIP) has a Call Screening feature to thwart Robo Callsers. When you call our 770-666-8100 business line a voice will come on and ask you to press a specific, random number on your phone. Su
ccessfully pressing the instructed number on your phone will allow you to complete your call to us. As always, if we don't answer, we are probably in the casting room or making products. If e are not availed should leave a voice mail with your name, phone number.
All that said, next Monday is Martin Luther King, Jr Day and the U.S. Postal Service as well as most financial institution will be closed for the US National Holiday.
The above image of the "Ferry-Morse Seed Co." diorama (now at home in New Zealand) I constructed some time ago. I try to sneak in a plastic model or two into the diorama as my way of showing that plastic models can pass of contest models, too! One should be very obvious; can you find the second? This Link will take you to the websites to see more images of this diorama.
See you in the Hobby Room ... I'll be the one wearing a mask' still!
Rustic Scale Lumber-Natural Finish Doctor Ben's Scale Consortium - Multi-Scale
When I first began building Fine Scale Miniatures kits (manufactured by George Sellios) many years ago, the part that I enjoyed the most was the realistic weathering and scenicing. Nothing irked me more than to build a model in a brand new, pristine condition. I began looking for something more that what the FSM instructions offered. Don't get me wrong, I owe a great deal of what I learned about building models Each Package Contains 300+ Pieces of 3/64''x 9/64''x 5-1/2''long. CLICK HERE to access this product.
Railroad Tie Lumber Stacks (2pcs) Scale Model Masterpieces HO
Set consists of 2pcs-1-1/8 inch square x 5/8 inch tall Each High Quality Labstone casting is a stack is constructed of 0.100" x 0.125" x 1.125" long simulated ties. The stacks in this image are simple stained/washed with Doctor Ben's Realistic Oak Weathering Stain (#1081) and then a diluted was of Doctor Ben's Instant Age Weathering Solution (#1152). Yes, it's that simple ... this is weathering & NOT rocket science! CLICK HERE to access this product.
the Shed & Boiler Kit Short Line Freight
HO & O Scale
Thomas A. Yorke Enterprises is now Scale Model Masterpieces
We have added several Options to chose or NOT chose when purchasing this kit. 1) The Option of adding Doctor Ben's Weathering Stains and/or Weathering Solutions used for the finish & weathering of the Pilot Model (10% savings when purchased with this kit); and/or 2) Roof Material-Choices of either Corrugated Metal or Seamed Tarpaper (Grey or Red Oxide) are available instead of the Doctor Ben's Precision "Square City Shake Shingles (#DBZ6153) included in this kit. CLICK HERE or image at right for more information ...
Spotlight: Doctor Ben's Weathering Solution Set #1 #1180 including How-To Booklet #1: "Turning Toys into Models" - Four 4oz Jars
Not to be confused with the Doctor Ben's Weathering Stains; using Doctor Ben's Weathering Solutions will have your fellow modelers scratching their heads pondering just how you created that affect!
You may already know about our Doctor Ben's Realistic Rust, Instant Age &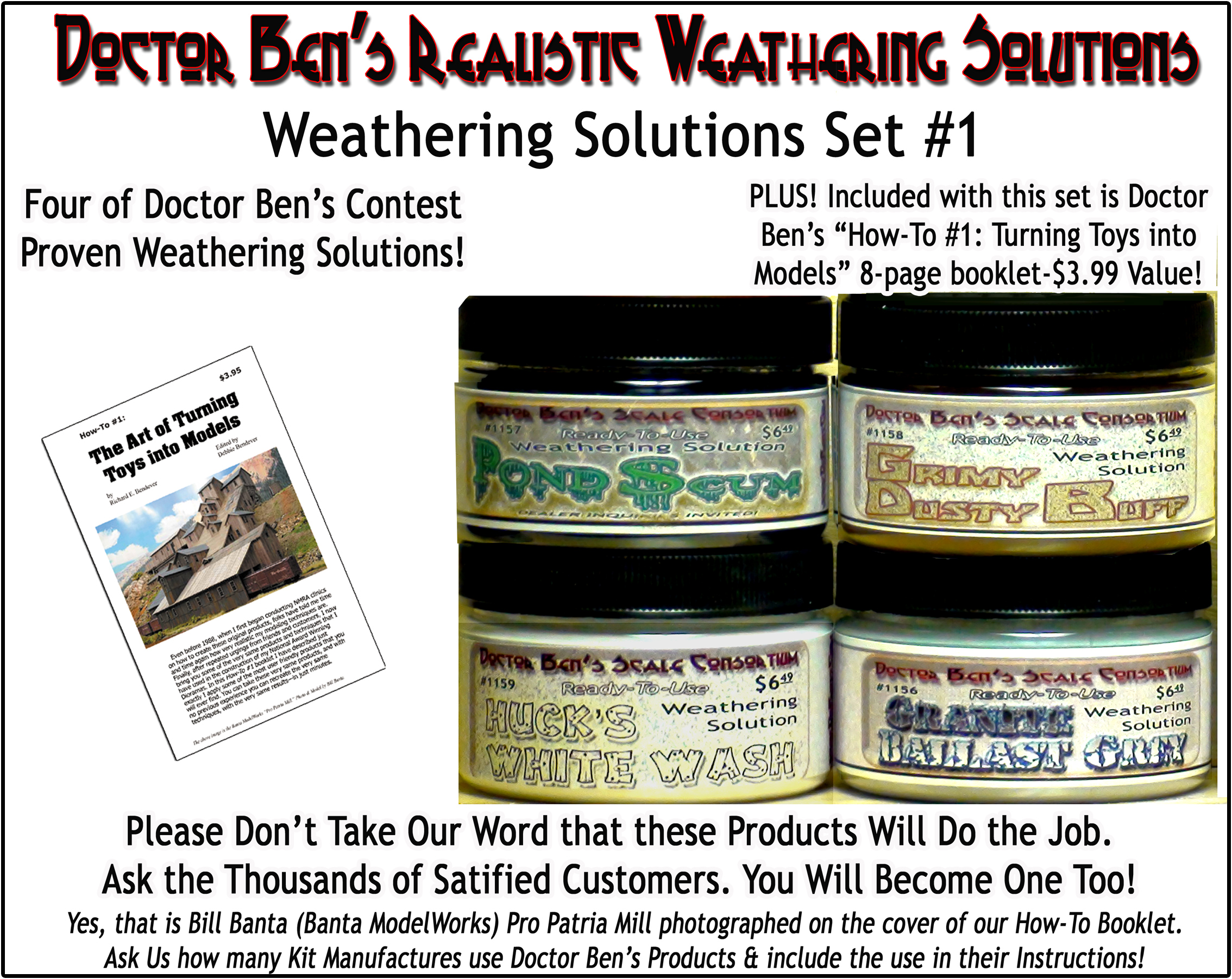 Weathered Rust, the following is a detailed description about some of our equally as impressive Doctor Ben's Weathering Solutions also available in our Store:
Granite Ballast Grey Weathering Solution #1056-4 oz. creates that light, dusty grey that is so difficult to achieve with opaque products. Additionally, this Weathering Solution reveals a 3-D effect for more realism rather than just a flat color wash. The Granite Ballast Grey Weathering Solution is also great for that silvery, grey driftwood color that is so hard to replicate in nature.
Grimy Dusty Buff Weathering Solution #1057 creates that light, dusty buff (tan) from road travel and wind that is so difficult to achieve with opaque products. Additionally, this Weathering Solution reveals a 3-D effect for more realism rather than just a flat color wash. The Grimy Dusty Buff Weathering Solution is great for use on vehicles, details and toning down that *new* look of fresh paint.
Huck's White Wash Weathering Solution #1058 is just what it says.
Everything from lime stains on a locomotive, to faded white washed wood and even the bright white lettering on a sign or on the side of a boxcar; the results are remarkable! Got more ideas for uses? Let us know & we try them out.
Pond Scum Weathering Solution #1059 looks just like to sounds. Picture a pond or small lake out in the country or an isolated inlet where there's not much activity. You look up against the shore and you see this green crud; that's Pond Scum. But don't stop there. Look on the shady north side of many structures and you will see this green film of mold and mildew; that too is Pond Scum. And only Doctor Ben's has it! Click Here to find more about this product!
CORRUGATED ROOFING / SIDING Material
Doctor Ben's Scale Consortium N, HO, S & O Scales
Now Chose Aluminum Metal and/or Metallic Cardstock Corrugated Material! See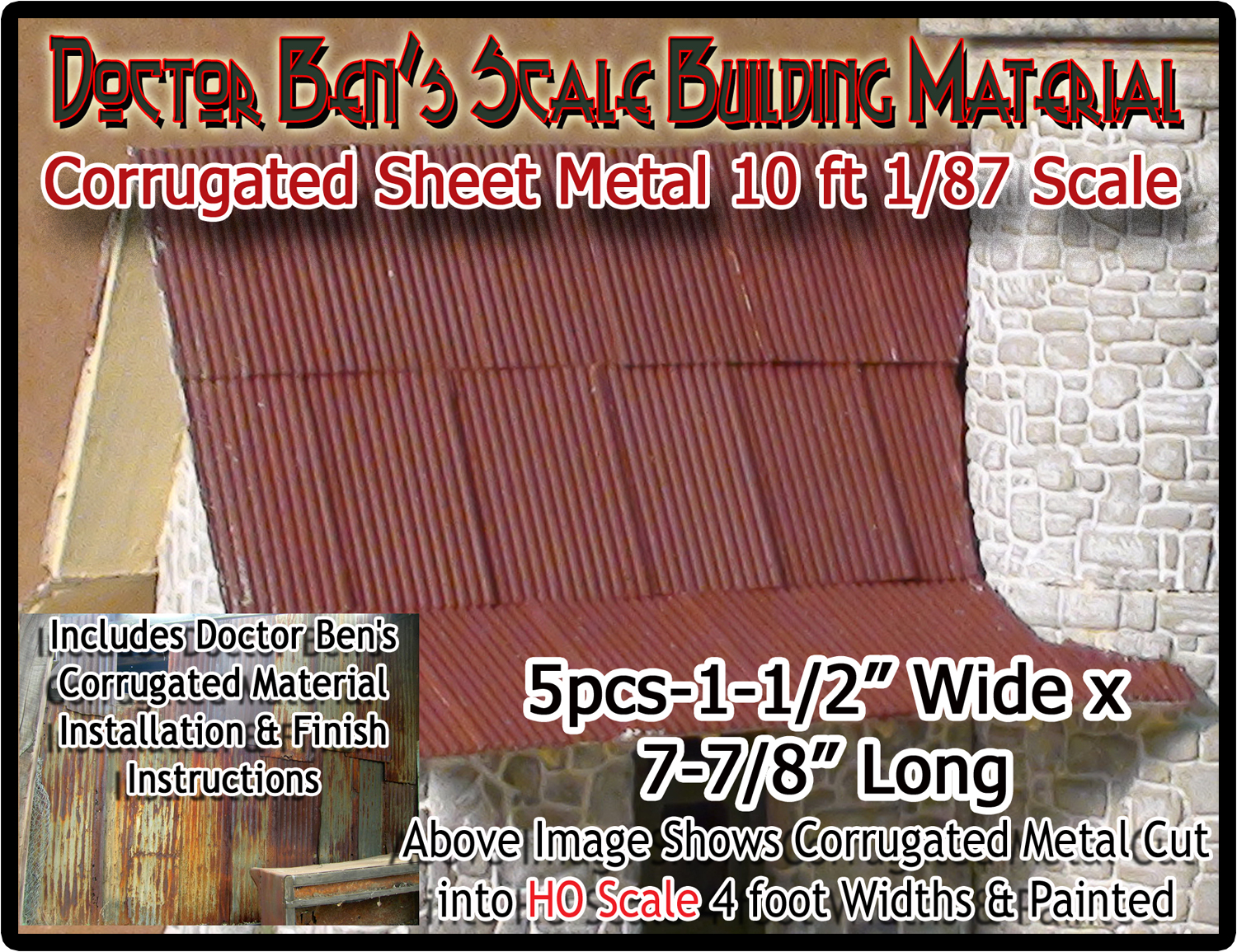 images of both materials and their descriptions.
Some modelers may think that because one material is a cardboard-composite that this product is a cheap quality imitation, but nothing could be farther from the truth. The Doctor Ben's Premium Silver Metallic Cardstock matte finish composite & vinyl backing material is an extremely high quality product and quite frankly, if it weren't as good or better than the aluminum material that we have sold for years and years; we would NOT be putting our Doctor Ben's brand name on this product. Watch for upcoming reviews on this amazing new product! CLICK HERE or image at right for more information ...
Doctor Ben's Aged Driftwood Weathering Stain 4oz

Using this Doctor Ben's Product: Ever since 1991 we have offered Doctor Ben's Aged Driftwood Weathering Stain as a non-petroleum, identical color match replacement for the long defunct Floquil Flo-Stains© products; especially Floquil Driftwood stain made famous by the Fine Scale Miniatures kit instructions of the 1970s to present. Thousands of jars of Doctor Ben's Aged Driftwood Weathering Stain have been sold with equally thousands of satisfied customers. CLICK HERE or image at right for more information ...
Boxes & Blocks & Bricks-Use for Multiple Scales!
A few years ago we purchase the California Freight & Details Co HO product line. And believe it or not, we still have a number of the detail parts that we have yet to release. So, Here are four (4) newly released palleted sets: SMM5000-Palleted Boxes-Large w/Risers (2pcs); SMM5004-Palleted Boxes-Medium w/Risers (2pcs); SMM5010-Palleted Boxes-Small w/Risers (2pcs); &
SMM5075-Palleted Cement Blocks-w/Risers (2pcs). Save 12% over purchasing all four individually! Item #SMM5003. Watch for our upcoming How-To Tutorial on our website Blog Coming Very Soon!
Split Granite Stone Single-Tunnel Portal Scale Model Masterpieces HO/HOn3
Getting ready to build that empire and need safe passage through the mountains? You're going to want this awesome tunnel portal! Formerly, Doctor Ben's Scale Consortium Scale Tunnel Portal #9110 & #9111 (LabStone & Resin-both Unfinished Castings), this Split Granite Tunnel Portal is an original master creation utilizing the Doctor Ben's #8880 (3/32") Baby Building Blocs. More Information ...
Doctor Ben's How-To #4: "Hot Glue Casting" Booklet by Richard Bendever! A number of years ago I was browsing through my old Gazette magazines and I picked up the January/February 1982 issue where I found an interesting article. In this long-out-of print magazine, I found an article about casting detail part
s. In that article Terry Metcalfe described how he cast parts by melting beads of a thermoplastic called "Makit and Bakit" beads in RTV molds using an ordinary kitchen oven. I decided that this process was definitely NOT going to work for me.
As a former Mold Maker/Tool & Die maker, I am quite familiar with the plastic injection process... Read More ...
"The St. Matthew's School House" Kit HO/1:87
by Scale Model Masterpieces formerly Thomas A. Yorke Enterprises
Footprint: 2-1/2" wide x 4-1/2' long. Small in stature; huge in detail

The prototype for this structure was one of the hundreds of photographs done for the Farm Security Administration by Walker Evans. The photo for this particular inspiration was about 1936 somewhere in Alabama. This structure is a complete freestanding structure that may be used alone or combined with other period structures.... Continued Here!
Depot/Station Platform Details HO & O Scales

Scale Model Masterpieces/Thomas A.YORKE Ent
Description for this item:... Scale Model Masterpieces DETAIL PARTS are composed of UNFINISHED Strong, High Quality, Labstone Casting parts & Finish are Required. Assembly using most plastic cements and painting may be completed by hand or an air...
Availability: HO & O Scales In Stock.
If you are not signed up for this DEBenLLC Newsletter OR our *New* Doctor Ben's Newsletter and you would like to subscribe, please CLICK the Links Below and then scroll down to the bottom of the Home Page.
Click here for the DEBenLLC Facebook Page - Friend Us Here!
Click here for the DEBENLLC Fan Page - Like Us Here!
Thank you for your business! Please tell your friends; it's our only advertising. Sincerely, Debbie & Richard Bendever
TOP